Permanent Textile Colour Spray - water-based and eco-friendly
Style it up! - You can easily and quickly give your t-shirts, Jeans, Hats and all the other clothing an individually look. No matter whether complete coloring or pure decoration.
Brush up! Upcycle your old favorite furniture, rugs, curtains or the interior upholstery of your car, to a new look.
---
---
Within an hour our white dirty couch became a new piece of furniture! I'm absolutely thrilled! Thank you very much!
...
...I am completely impressed by this color spray. With a few tricks I have now created a really great designer top!
---
With SimplySpray you get an innovative textile paint. It is very easy to use and impresses with its practical properties. The textile paint for spraying is intended for absorbent materials, i.e. natural fibers such as cotton, wool or felt. So you can use them, for example, on a T-shirt, the carpet, towels, for car seats or the couch. Use the Spray Fabric Dye for a color change, or refresh color or 'black it' with SimplySpray.
Plastic fibers such as 100% polyester or a blended fabric with a very high proportion of polyester may not adhere securely. However, many of our customers have also successfully recolored these synthetic fibers. In addition to colors that are often required, such as black or anthracite, we have various bright and colorful colors on offer. You are sure to find the textile paint you need for your project. For example, you can freshen up the faded anthracite of your car upholstery with our spray-on textile paint. Curtains or seating furniture also get a new or refreshed look with our textile dye. The spray dries within 30 minutes at room temperature - no fixation is necessary and after 72 hours it is machine washable at 30°. The treated material remains soft and flexible as it was before application. As a creative, young company, it is important to us that our paints are environmentally friendly and safe. Therefore, these are neither poisonous nor dangerous.
---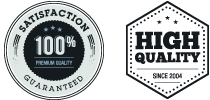 ---