Welcome to SimplySpray Germany!
FabricSpray - Fabric Spray Paint
---
---
Within an hour, our dirty white couch became a new piece of furniture! I'm absolutely thrilled! Thank you very much for that!
...I am completely impressed with this color spray. With a few tricks, I have now created a really great designer top!
---
ABOUT SIMPLYSPRAY & FABRICSPRAY
With SimplySpray you get an innovative textile color. It is easy to use and convinces with its practical properties. The textile paint for spraying is intended for absorbent materials, i.e. natural fibers such as cotton, wool or felt, etc. So you can use them for example on clothing, rugs, towels, car seats or the sofa. Use SimplySpray to spray for a color change, freshen up products, or make "black again black". In addition to these often needed classics such as black, anthracite and grey, we offer various bright and colorful colors. You will certainly find the textile paint you need for your project. For example, renew the faded anthracite of your car pads. Curtains or seating can also get a new or refreshed look. It dries to the touch within 30 minutes at room temperature - no fixation is necessary -, and after 72 hrs, it even becomes washing machine-resistant at 30°. The treated material remains soft and flexible as it was before use. As a creative, young company, it is important to us that our colors are environmentally friendly and safe. Therefore, they are odorless and neither toxic nor dangerous.
---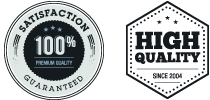 ---